As more companies look to help employees save for college, here's what you need to know
"The 529 plan is coming to the workplace.
To make it easier for employees to save money for college, more companies are adding 529-plan perks to workplace-benefits packages. Some employers allow workers to fund these college-savings vehicles automatically via payroll. Others kick in matching contributions. The goal is to make saving for college akin to saving for retirement by providing some of the same incentives that encourage workers to contribute to 401(k) accounts.
"We have absolutely seen an uptick in both interest and numbers of employers offering college-savings plans in the workplace, says Kris Spazafumo, a vice president at American Funds, whose CollegeAmerica 529 plan is the country's largest by assets under management, according to Morningstar.
Although 529 perks aren't yet a common employee benefit, CollegeAmerica says its corporate-sponsored accounts have been expanding in number at a rate of about 5% annually over the past five years. Similarly, Ascensus Inc., which provides administrative services for more than 30 529 plans across the U.S., says the number of employers participating in payroll direct deposits across the plans it manages rose to more than 12,000 last year from just over 11,000 in 2014.
As 529 benefits make their way into the workplace, here are a few things employees should consider:…"
Full Article: http://www.wsj.com/articles/the-latest-corporate-benefit-the-529-plan-1459130786
Find out more about NAST's 2016 Legislative Priorities
"Louisiana Treasurer and U.S. Senate hopeful John Kennedy repeated his plan Tuesday to fix the state budget through a series of cuts during during a presentation to the Houma-Terrebonne Chamber of Commerce.
His proposal, which he's pushed in a series of meetings across the state over the last few years, has changed very little. He's proposing a significant cut to state consulting contracts, statutory dedications and an end to Medicaid fraud.
His plan has butted against that of Gov. John Bel Edwards, who proposed raising taxes and cutting back on tax breaks, even though the two agree that the state's annual budget crisis can be blamed on former Gov. Bobby Jindal.
Kennedy, a Republican, and Edwards, a Democrat, represent two schools of thought at the state Capitol: one that thinks the state needs more money, while the other thinks there is enough.
"I don't care how high they raise taxes in Baton Rouge," Kennedy said. "As long as the legislature spends more than they take in, we'll continue to run a deficit."
He brought with him two posters, detailing artwork that the state contracted to out-of-state artists to build. One of which was a colorful glass sculpture, the other hung from the ceiling of a government building. Combined, Kennedy said, the two pieces cost the state $1 million.
"That's $1 million in taxpayer dollars that didn't pay for doctors, and didn't pay for books," he said."…
Utah State Treasurer David Damschen has signed a letter with more than 600 state and local officials asking Congress not to change tax treatment of municipal bonds.
He recently returned from a trip to Washington, D.C., to attend the National Association of State Treasurers' (NAST) 2016 Legislative Conference. While there, a letter was submitted, co-signed by Damschen and over 600 state and local officials, to top lawmakers on tax-law writing committees in the U.S. Congress, including Utah Sen. Orrin Hatch.  The letter outlines the group's adamant opposition to proposed changes to the tax treatment of municipal bonds, noting the current structure is essential for obtaining low-cost investor funding for the building of schools, roads and other infrastructure.
"If Washington politicians eliminate a major incentive for investment in Utah infrastructure bonds, building our schools, roads and transit projects will become much more expensive for the Utah taxpayer," said Damschen.  "Municipal bonds have been exempted from federal taxation since the establishment of the federal income tax system – and we're fighting to ensure they stay that way."
As outlined in the letter, "Proposals to change this commitment to tax-free municipal bonds would not only be costly for state and local taxpayers, but also result in fewer projects, fewer jobs and further deterioration of our infrastructure." Eliminating or capping the exemption would harm taxpayers throughout the nation because "municipalities will have to either curtail infrastructure projects or raise taxes on sales property or income."
Tax-exempt municipal bonds are the primary financing mechanism for state and local infrastructure projects and provide essential funding for states, counties and localities. Three-quarters of all U.S. public infrastructure projects in the 21st century have been built by states and local governments utilizing the public-private partnership embodied in tax-exempt municipal bonds.
"There are proposals in D.C. to effectively increase the costs of building roads and schools in Utah on the backs of taxpayers – so we went to Washington to ensure our voice of opposition is heard," said Damschen.
Source: http://utahpolicy.com/index.php/features/featured-articles/8904-press-release-treasurer-damschen-supports-protecting-tax-exempt-bonds
State Treasurer Deb Goldberg last week hosted a presentation, titled "Preparing for College: Proactive Steps and Financial Resources."
"When I was a child, I had a passbook and regularly made deposits at the bank," Goldberg said. "Today banking is all done via ATM or computer, so students do not realize the meaning of savings, because they no longer physically see it in hand. Saving is important for all, whether for a student's higher education, for a future home purchase or for a retirement plan. Forty percent of families today do not function with a budget, which makes it even more difficult to begin to save."
Jonathan Hughes, of the Massachusetts Educational Financing Authority, discussed how the MEFA website assists families in planning for their children's higher education plans with expert guidance. MEFA also provides offers loans to all levels of education.
"MEFA's website allows parents and guardians to begin planning for higher education as early as preschool," said Hughes. "We suggest the U Fund to begin saving as early as possible. College savings should be a part of one's regular budget, just like retirement and paying household bills. It is never too early or too late to begin saving for higher education. Saving for college sets children up for future success."
Patricia Reilly, director of financial aid for Tufts University, discussed the FAFSA application process. In the event of special financial circumstances, Reilly suggests attaching a one-page letter with the application to explain the issue.
"Sometimes the higher-priced school might have more endowments and therefore is able to provide more in the way of financial aid than a less expensive college, so don't just cross the more expensive one off the list without checking that out," she said.
Claire Masinton, of the office of attorney general Maura Healey, discussed for-profit institutions that provide financial aid.
Medford Public Schools Superintendent Roy Belson noted Medford High School offers many Advanced Placement courses, which can help reduce college costs by counting toward undergraduate course credits.
Community colleges are another option for affordable higher education, offering core courses at a reduced cost and allowing students to work while attending school. State colleges also offer reduced tuition rates for resident students.
This presentation was organized by the Medford Public Schools Center for Citizenship and Social Responsibility and the Guidance Department and made possible by a grant from Bloomberg Philanthropies.
Source: http://medford.wickedlocal.com/article/20160321/NEWS/160329218
State Treasurer John Chiang wants to create a single online contact for businesses to see what California tax credits and other government incentives are available to them.
The proposed California Business Incentives Gateway site would allow employers to submit company details as filtering criteria to receive a list of applicable incentives.
California State Controller John Chiang wants a one-stop shop for businesses to identify government incentives.
State officials hope to launch an early version of the website in December. The initial website would include incentives from all the boards and commissions related to the state treasurer's office, Lifsher said. Over time, the plan is to include incentives offered by other state agencies and local governments. State and local governments in California provide thousands of different incentives to help businesses, including site-selection services, targeted tax breaks, fee waivers and reduced utility rates, according to a report from the treasurer.
Source: http://www.bizjournals.com/sanfrancisco/blog/2016/03/state-treasurer-wants-a-one-stop-shop-for-business.html?utm_source=feedburner&utm_medium=feed&utm_campaign=Feed%3A+bizj_sanfrancisco+%28San+Francisco+Business+Times%29
Up $100 billion in a decade.
In case you haven't tuned in to a presidential debate in the last six months, here's a news flash: People are increasingly alarmed about the rising cost of higher education in America. But hundreds of thousands of parents are doing something about it. In fact, 400,000 Americans opened new college savings accounts in the last year.
That's one of the findings in a new report from the College Savings Plans Network. In December 2015, the total number of 529 college savings plans in America reached 12.5 million, up from 12.1 million the year before.
The total amount invested in these plans rose as well, hitting $253 billion in 2015. That's up $5.3 billion from the year earlier, and it represents an increase of more than $100 billion compared to a decade ago.
Young Boozer, Chair of the College Savings Plans Network and Alabama State Treasurer, says that despite market turbulence in the last year, the increases in both the total number and amount invested in 529 accounts are good signs.
"I think people would be surprised at how much people have saved to date in this program," Boozer says. "But this is a growing program, and I expect it to grow every year."
The increase in savings plans and investments isn't too surprising when you consider the crippling (and rising) cost of education. The CSPN report finds that the cost of college tuition will likely increase about 8% each year, meaning the cost of college roughly doubles every nine years. MONEY calculated that four years of tuition at a public college could cost $100,000 (in today's dollars) 18 years from now.
Some speculate that saving for college doesn't pay off, but they likely haven't considered that saving for college now saves on costly student loan interest rates in the future. For example, every $100 you save for college today can reduce student bills after graduation by $240.
Investing in a 529 also allows you to save for school tax-free, as long as the money is used for higher-education expenses, which include things like computers and other tech for students.
Previous research indicates that only one in four parents saving for college puts money in a 529 account. If you're not already invested in a 529 and have a child who plans on attending college, Boozer says it's never too late to start.
"Saving for college through the vehicle of a 529 plan is the best way to save for college period, end of sentence," he says. "There is nothing better."
Source: http://time.com/money/4259055/saving-more-for-college-529-plan/
Today, the College Savings Plans Network published its 2015 Year-End 529 Report.  The year finished with a record level of total college savings investments. Highlights of the 529 Year-End Report include:
• Total investment by U.S. families in 529 plans reached a record level of $253.2 billion, representing a growth in assets of $5.3 billion.
• The total number of 529 accounts increased 3.6% over the past 12 months, growing from 12.1 million in December 2014 to 12.54 million as of December 2015.
• Contributions grew by $25 billion in 2015.
• More than 55% of all 529 accounts received contributions in 2015.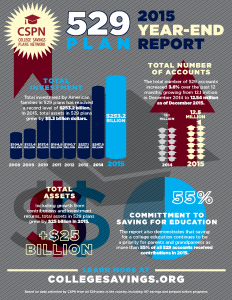 College savings plans are the best way for families to save for college, and no amount is too small in which to start or contribute. In the past year more than 6.8 million accounts received contributions confirming no matter how big or small the contributions, families are committed to making college savings a priority.
Go here to read the full report
For more information on how to get started, or tips on 529 plans, we encourage you to look around our website www.collegesavings.org, which has great resources for families looking to save. Let's continue to grow 529 plans in 2016!
About the Author:
A native of Alabama, Young Boozer's four-decade career in banking, finance and investments has taken him from Citibank in New York and Crocker National Bank in Los Angeles, to Coral Petroleum in Houston and Colonial Bank in Montgomery. Treasurer Boozer also served as Deputy State Finance Director for Governor Bob Riley after his retirement in 2007. During his tenure in the Alabama Department of Finance, he played a key role in saving millions of taxpayer dollars through the restructuring of state bond debt and derivatives. Boozer left the Riley Administration in early 2010 to run for State Treasurer in his first race for elected office.
Don't underestimate the importance of the Bank of Mom and Dad when it comes to financial literacy.
That's because parents can't rely on their kids getting money lessons at school. Financial education varies dramatically from state to state. While most states now include personal finance in their K-12 standards, a January survey from the Council for Economic Education found that the number requiring a course in personal finance has held steady at 17. Twenty states require an economics course — two fewer than in 2014.
Even if you live in a state with rigorous standards, you're still the No. 1 influence when it comes to your kids' money habits. It's a subject to talk about both early and often, said Ted Beck, president and chief executive of the National Endowment for Financial Education. The group did a study with the University of Arizona and found that parental involvement is key in helping young adults avoid financial problems.
But don't mistake lesson for lecture.
"It's pretty easy to tune out," warned Beck. The best money lessons for young kids are more interactive, letting them get hands-on money experience.
"To me, financial literacy is knowledge into action," said George Barany, financial education director for America Saves.
One of the simplest things to do: Walk kids through the money decisions you make, involving them in the process when you can. There are valuable financial lessons even in everyday tasks, said J.J. Burns, a certified financial planner based in Melville, New Jersey. A trip to the grocery store, for example, can be an opportunity to cover planning, budgeting and value — in the relatively more fun guise of making a grocery list, clipping coupons and comparing unit prices.
"You're demonstrating the actions of how you go about doing this," he said.
Emphasize the advance planning and saving you have done, or are doing, for a particular purchase or goal. "It's the idea that you can't just go to the store and buy a bike for $500," Burns said. "You have to save up for it."
Let kids manage some money of their own. "An allowance can be a really useful tool, but you have to clearly define what the allowance covers," Beck said. Entrepreneurial endeavors, like yard sales and lemonade stands, can also be fun opportunities for kids to see how commerce works.
Formalize savings beyond the piggy bank. "Kids want to be shown how to do something, not just be told about it," said Barany. Help your child open an account for his or her own savings, and make regular trips to the bank to make deposits in person. Encourage goal-setting.
"People save best if they have a goal for which they save," he said.
Use cash whenever you can, Burns said. Seeing you handle money helps kids learn to identify different bills and coins, count and make change. It's also a good way to illustrate that money is a finite resource — an idea that can be tougher to grasp when you're swiping a credit or debit card.
"This is how much I have, and this is how far it can go," he said.
When your child is paying with his or her own money, resist the urge to step in and cover a purchase your child can't afford, said Beck. That undermines those good habits of saving and planning. (The exception: If you agreed in advance to match Junior's savings for that bike, or provide a set amount for a vacation souvenir.)
"If you're suddenly the ATM, the checkbook fairy, are you really reinforcing anything?" he said.
Source: http://www.cnbc.com/2016/03/07/money-lessons-from-the-bank-of-mom-and-dad.html
Illinois Treasurer Michael Frerichs is suing telecommunications company Sprint to recover an estimated $2.7 million owed to about 32,000 residents who purchased a product or service but did not receive the rebate that incentivized the sale, according to a Tuesday news release.
Frerichs pursued the lawsuit after Sprint and its clearinghouse partner, Young America Corp. of Minnesota, kept the money, according to the news release. The treasurer's office has the ability to sue because rebates are considered unclaimed property if not paid within five years, and must be surrendered to the state treasury. The purchases in question were made between 2003 and 2005.
"It is frustrating and wrong when these large companies with deep pockets and corporate attorneys break their promises, keep money that is not theirs, and dare people to file a lawsuit," Frerichs said.
According to Frerichs' office, the contract between Sprint and Young America says Young America draws the rebate check from its bank account, and Sprint advances the funds to Young America to cover the rebate. The value of the uncashed rebate check, known as "slippage," is kept by Young America, and slippage is considered when negotiating contract terms.
Therefore, Frerichs explains in the release, the lawsuit alleges Sprint and Young America have retained the value of unclaimed rebates owed to Illinois residents. He says this violates the Illinois Uniform Disposition of Unclaimed Property.
Sprint rejected settlement offers from the state despite entering into similar agreements with other states, the release says. Attorney General Lisa Madigan's Office is representing the treasurer.
Source: http://thesouthern.com/business/local/illinois-treasurer-suing-sprint-for-million-in-unclaimed-rebates/article_75b25529-d9e2-5002-9c66-51a158c2221a.html