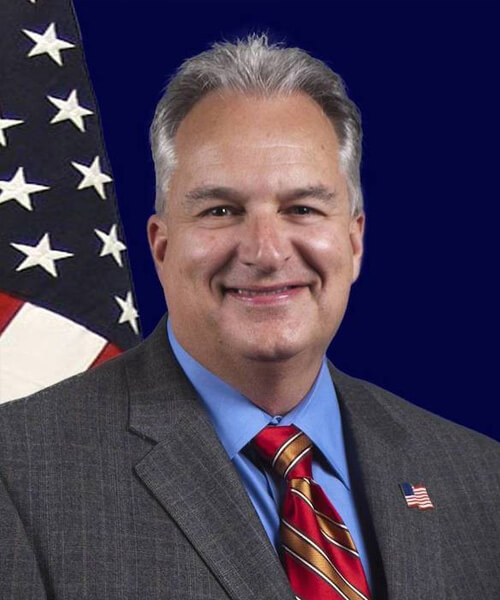 NAST Boards and Committees
Executive Committee
Financial Education and Empowerment Committee
On November 4, 2014, Dennis Milligan became the first Republican elected to the Office of Treasurer of State since Reconstruction securing 56% of the vote. The Treasurer of State serves as the State's banker and is responsible for an investment portfolio of approximately $3 billion.
Dennis previously served as the Saline County Circuit Clerk from 2011-2015.
The middle child of Lee Milligan, a truck driver, and Mae Milligan, a homemaker, Dennis grew up in Little Rock and graduated from McClellan High School in 1976. He attended the University of Arkansas at Little Rock.
Dennis is a successful small business owner who started his company, Water Treatment Services (WTS), from scratch in 1985. WTS has grown from serving central Arkansas to serving customers in 17 states. Dennis also owns a real estate developing company and is a home builder.
Dennis and his wife, Tina (Summers), married in 1977 and have lived in Saline County since 1985. They have one daughter, Tiffany, an attorney, and son-in-law Chad Brown, vice president of WTS; and three grandchildren: Jackson, and twins Gabby and Grace.
Dennis is a member of The Church at Rock Creek. In his local community, Dennis has coached little league baseball, and supported the Saline County Humane Society, his local chapter of Habitat for Humanity and Saline County Seniors. Dennis was appointed constable in Saline County by Governor Mike Huckabee in 2006, and has served as a reserve deputy with the Saline County Sheriff's office. He has supported scholarships for single parents and created eight scholarships for high school seniors in four Saline County high schools. Dennis was named to the Arkansas Chapter of the American Red Cross Board of Directors in 2014.
Dennis previously ran for state representative in 2002 and 2004. He served as chairman of the Saline County Republican Committee in 2005. Dennis went on to serve as the Treasurer for the Republican Party of Arkansas and Chairman of the Republican Party of Arkansas from 2007 to 2008.
As Saline County Circuit Clerk, Dennis was an innovator and unafraid of challenging the status quo. He never accepted the old adage, "well that's how we've always done it." He implemented an online juror information data collection system, usage of a computer system to randomly assign jurors and allowed for the use of debit and credit cards to pay filing fees.
In 2012, Dennis was one of 12 nominees for the prestigious G. Thomas Munsterman Award for Jury Innovation. This national award recognizes states, local courts, organizations or individuals that have made significant improvements or innovations in jury procedures, operations and practices. Dennis was nominated for his jury notification system that replaced a method which required jury panelist to call a recorded message each week to find out if they were needed or not for jury service. His notification system sent notices to panelist via a pre-recorded message to a home or cell phone, or via an email or text message saving the taxpayers' time and money. Dennis is the only Arkansan ever nominated for that award.
During the 89th Session of the Arkansas General Assembly, Dennis worked closely with legislators on Act 291. Previously Dennis ended the practice in Saline County of the Circuit Clerk being paid personally while acting as the commissioner for the sale of real or personal property. Act 291 ended the practice statewide and has the fee go into the county funds which cover the operations of the Circuit Clerk offices.
As Treasurer of State, Dennis will continue to bring his innovate spirit and mindset to the Treasurer of State's office. He has pledged to restore honor and integrity, and regain the public's trust in the office. He will be introducing a blind bidder program to receive and award investment proposals from pre-approved vendors, posting all public records online and automating the operations of the office as much as allowed by law.