Thought Leadership Thursday
7 Takeaways from NAST's Largest Legislative Conference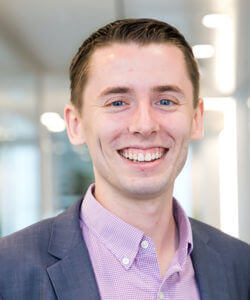 Thought Leadership Thursday Article
7 Takeaways from NAST's Largest Legislative Conference
NAST Policy Director & SDMN Association Director
Earlier this week, nearly 300 attendees— including 32 State Treasurers – convened in Washington for our largest Legislative Conference to date. For those of you who joined us, we wanted to say thank you. And, for those of you who could not attend, here's a recap of what you missed.
We celebrated ABLE turning five
In order to mark the occasion, we kicked off Monday with an update on legislation and regulation relating to state ABLE programs. Panelists focused on The ABLE Age Adjustment (H.R. 1814 | S. 651), a NAST priority bill that would raise the age of eligibility for individuals opening ABLE accounts from up to 26 to up to 46. Later on, NAST held a day long parallel conference program on various other topics relating to state ABLE programs that was attended by more than 100 attendees.
We talked infrastructure
Since the President came into office in 2017, infrastructure has remained a major bipartisan priority for both sides of the aisle. Everyone recognizes the importance of addressing America's infrastructure deficit, but agreement on how to pay for the solution remains elusive. NAST attendees heard from a number of experts on various proposals floating around Congress and the potential paths forward to achieving another key NAST priority, the restoration of the tax exemption on advance refunding bonds.
We kept the focus on unclaimed savings bonds
State Treasurers and unclaimed property administrators welcomed Congress' inclusion of $25 million in the year-end spending deal to aid in the digitization of records on matured, unredeemed savings bonds. Still, NAST has kept its energy on advocating for the Unclaimed Savings Bonds Act (H.R. 5269 | S. 2417), which would go the next step and push Treasury to share those records with state unclaimed property programs. Attendees heard from a number of experts and Hill champions on where things stand and what the path ahead looks like.

We learned about what's happening in 2020
Beyond NAST's legislative priorities, attendees had opportunities to learn from their colleagues and experts on a number of other trending issues, including how the upcoming 2020 Census will influence funding directed to states; raising cybersecurity concerns; retirement planning for state employees; changes in the municipal bond market; how to use social media platforms to maximize your communications; and recent changes to 529 college savings plans.

We took to the Hill and launched our Advocacy Brief
On Tuesday, attendees took to the Hill to meet with their members of Congress and share our new 2020 NAST Advocacy Brief that concisely outlines our issues in an easy to read format. This year, NAST will focus on our priorities relating to advance refunding bonds, unclaimed savings bonds, raising the eligibility age for ABLE plans, and expanding access to college and educational savings through 529 programs.

We honored a lost advocate
This year, we also created a new award in memory of a former member of the NAST family and an ally of state finance issues, Chris Allen. Many of you remember Chris from his recent time serving on the Senate Finance Committee, and some of you may remember him as a former Director of Federal Relations for NAST. During her Monday morning remarks, Treasurer Goldberg presented the first "Chris Allen Memorial Award for Outstanding Advocacy in Public Finance" to his wife, Linda Allen. Going forward this annual award will recognize staffers in state treasuries or on Capitol Hill who have demonstrated outstanding service in advocating for or advancing NAST priorities.

And finally, we learned that when Treasurers speak, federal decision-makers listen
From the get-go, the message that NAST is placing a renewed focus on advocacy resonated loudly throughout the conference. Our Monday keynote from a former member of Congress, Ann Marie Buerkle, emphasized that the voices of State Treasurers are not only welcomed on the Hill, they are necessary to helping federal decision-makers make informed decisions. Even if you weren't able to join us in Washington this week, you can look forward to more to come as we expand our commitment to advocating for sensible policy that supports the work of State Treasurers.