Thought Leadership Thursday
ABLE "the New Hampshire Way"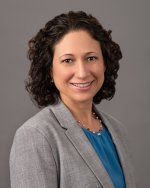 Thought Leadership Thursday Article
ABLE "the New Hampshire Way"
Treasurer Monica Mezzapelle, New Hampshire
Chuck Saia, Executive Director of the NH Governor's Commission on Disability
Dear Colleagues:
As the summer ends and the school year begins all around the country, we continue to celebrate August's National ABLE to Save month here in New Hampshire.
National ABLE to Save month is the perfect time to highlight the value and importance that ABLE accounts provide to individuals living with disabilities, their family members, and caregivers.
We recognize the Granite State is unique and is characterized by its rugged individualism coupled with a strong, collaborative spirit. This is apparent in how New Hampshire has approached its own ABLE program.
STABLE NH is jointly administered by the NH Governor's Commission on Disability (GCD) and NH State Treasury. The State's enabling legislation allows us to better meet the needs of the disability community. As Governor Chris Sununu has stated "at the end of the day, everyone deserves equal opportunity."
Here in the Granite State, promoting public policies like ABLE is truly grassroots and outreach on ABLE has been "the New Hampshire way." Every account represents a person and their individual story, and we like to think that we have connected with all account holders, whether through a community presentation, webinar or personal communication with us.
We regularly collaborate with other State of New Hampshire agencies, advocacy groups, one-on-one outreach, presentations—whatever it takes to spread the word on this game changer program that allows those with disabilities to save, invest in their future, and take care of daily expenses along the way.
Over these past five years, there have been many testimonials about the life-changing effect of a STABLE NH account. Most recently we heard from Laura, one of the first enrollees in the program.  Laura is also a GCD Commission member, and her story is about a wish come true. Laura is a UNH-4U college student, something she was financially able to do because her STABLE NH funds enabled her to pay for many of her school expenses. The story goes on. Laura was also recently hired for a part-time job. Her paycheck is now a stronger asset because her STABLE NH account allows for the use and saving of funds without jeopardizing limits set in place by Supplemental Security Income (SSI) and Medicaid.
During this ABLE to Save Month and throughout the year, let us remember that person by person ABLE plans are supporting the disability community to live more financially independent, empowering lives through ABLE Accounts.
While August's ABLE to Save month offers a chance to publicize and encourage investments in our state's ABLE savings program, we know year-round awareness is essential. We are thrilled to support the NAST Foundation's new ABLE today initiative as they provide a new, national collaboration for expanding ABLE outreach and partnerships. Like others, we are hopeful that this national initiative will produce new leads for outreach for our state's ABLE plan.
New Hampshire is proud to be part of the national ABLE outreach and know we join with other dedicated ABLE plans in making a difference for the disability community.
Sincerely,
Monica Mezzapelle, New Hampshire State Treasurer
Chuck Saia, Executive Director of the NH Governor's Commission on Disability Co-Administrators of STABLE NH