Thought Leadership Thursday
NJ FinLit: An Opportunity to Improve New Jerseyans' Wellbeing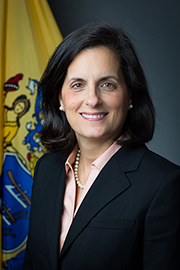 Thought Leadership Thursday Article
NJ FinLit: An Opportunity to Improve New Jerseyans' Wellbeing
Dear Colleagues,
April is right in the middle of the state budget process in New Jersey. It's a time when my team and I are working with the Governor, lawmakers, and advocates on prioritizing where and how the State's money will be spent in the coming year. It is our job to protect the financial wellbeing of our state.
In the spring of 2020, what began as a "normal" budget season was quickly turned on its head by the COVID-19 pandemic. As Treasury, we had to ask ourselves the same questions that households across New Jersey and America were asking around their kitchen tables: Did we have enough savings to weather this storm? Should we seek financial support? How can we make the best fiscal decisions in a changing world? Because New Jersey has struggled historically to build up its surplus, we were confronted with many challenges that required belt-tightening, strategic cuts, and emergency borrowing in order to weather the first year of the pandemic.
Our experiences and lessons learned during the pandemic helped build support for both stronger surpluses and the reduction of debt in subsequent budgets.
Many families in our state faced similar financial challenges and were ill equipped to weather this crisis on their own. It quickly became clear that the people hardest hit by the economic downturn were those who had the fewest resources to cope with financial instability.
This reality was further hammered home during an event we held last summer, the Treasurer's Symposium on COVID, Women and the Economy: Avoiding the Next "She-cession". Panelist after panelist described how the confluence of child care inaccessibility, disproportionate job-losses faced by women, and systemic inequalities already built into our economy pulled the rug out financially from under many New Jersey families.
Our challenge was clear: how could we help New Jerseyans boost their financial resilience and meet their goals? The pandemic was unprecedented, but as history shows, it will not be the last economic challenge we will face as a state.
That's where NJ FinLit comes in.
NJ FinLit is a free financial wellness platform geared toward adult residents at all stages of life and across the socioeconomic spectrum.
New Jersey incorporates financial literacy throughout the K-12 educational curriculum, but navigating the complexities of finances is a lifelong skill. As Governor Phil Murphy said during the announcement of NJ FinLit, "This new platform will close the circle to ensure every resident has the tools they need to take control of their financial future."
One appealing aspect of the NJ FinLit platform is that it meets people wherever they are in their financial wellness journey. By asking some basic questions up front, people who are new to financial planning are directed to resources on budgeting, saving for emergencies, and other basic topics designed to take that first step towards financial resiliency. For those with more experience, additional tools and courses go deeper into more complex topics – like investing, cryptocurrency, and entrepreneurship. The information can also be translated into multiple languages.
The response to NJ FinLit has been overwhelmingly positive. The site has garnered nearly 70,000 page views within a month of its launch, and many New Jerseyans are well on their way to improved financial wellness.
The COVID pandemic showed us how financially vulnerable we can be at times of crisis. Providing New Jerseyans with a trusted resource to build a stronger financial literacy foundation will help ensure that collectively we will be more resilient in the face of future challenges and better positioned to reach our financial goals.
Fellow Treasurers, if you haven't done so already, I encourage you to take steps, as we did in New Jersey, to improve financial literacy in your states. When our residents have the tools they need to thrive, our economy and communities can only grow stronger.
Sincerely,
Treasurer Elizabeth Maher Muoio
State of New Jersey