You are invited to apply to participate in the NAST Foundation's
Savings and Security Financial Wellness Digital Assessment and Training Platform
Funded by Wells Fargo & Powered by Enrich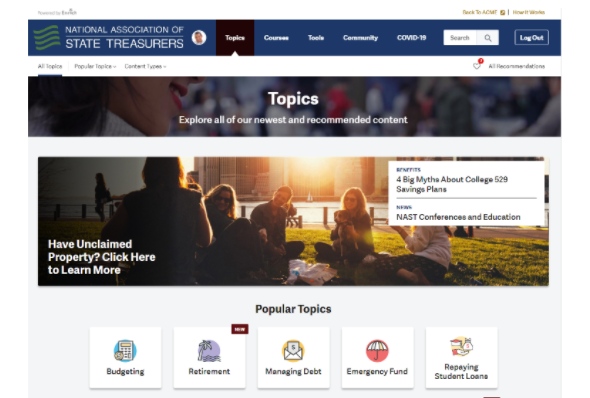 NAST's Foundation was awarded a second round of funds to continue the FinWell programs in October, 2021. As Phase 1 comes to a close (read more about the FinWell toolkits, fact sheets and case studies), the intention of Phase 2 is to offer a digital assessment and training platform to public employees, families, retirees, and others. NAST conducted an extensive due diligence and procurement process on behalf of governmental entities. 
Besides the online platform, five online courses will be created and housed on the website: 529 college savings and ABLE plans, unclaimed property (it's already live!), state-sponsored retirement savings, and public financial workforce opportunities.
Help us reach our goal: To have 100,000 active users of the free online assessment and training platform within the next 18 months. 
Please watch the December 1st webinar before applying. You can view it here. 
Apply now for access to the assessment and training platform for public employees, retirees, families and others! Fill in the online application here.
FAQs about the program (this list will be updated): 
Q – Where can I read more?  
A – Here is the link to the press release from November 2021 announcing the new project.
Q – How does my public entity apply?
A – First, please watch the webinar (if you didn't attend live) and then fill in the application. Both links can be found above.  The number of users doesn't matter — whether your government entity (city, county, state) targets 60 employees/others or 6,000 all are invited! 
Q – Where can I read the original RFP for more background?
A – Right here.
Q – Tell me more about the platform provider.
A – After a national RFP and rigorous review, Enrich was selected to be the digital platform provider. With our master contract, you can piggyback off of it for use in your state/city. For an Enrich demo, click here.  
Q – Is there a fee to be part of this project?
A – There is no cost to participate in the pilot program, but there are high expectations of each participating entity to ensure success. Winning applicants will sign a Letter of Engagement, which will outline the commitments to be part of this pilot program; basically ensuring all partners are putting some "skin in the game."   
Q – How are you going to reach 100,000 active users?
A – With your help! For example, if we get 50 partners to market to ~5,000 possible users that will generate around 2,000 active users per entity.
Q – What is an active user? And why do we need to market to more than that?
A – An active user is an individual who sets up an account, fills out the demographic information, takes the initial assessment, and completes two or more courses/modules from their personalized play list. Experience shows us that around half of the people who start won't fully complete the process.
Q – Is there a deadline to apply? When can we start? Are we eligible? 
A – Applications will be accepted on a rolling basis. The new site will be ready in early 2022 and the inaugural users (the first cohort) can start to enroll/participate then. Priority will be given to the 24 original subgrantees and NAST members, but all public entities are invited to apply to reach our goal. 
Q – Do I need an FTE to manage this project?
A – No, we just need to know who the public entity staffer is (the point of contact) who will be actively involved in this project. On the application you can list more than one. 
Q – What are the time expectations of staff from the office?
A – Since this is a pilot project, we anticipate holding zoom calls fairly often during the initial set up (maybe a couple of times a month) for training and implementation. Enrich will also host quarterly training and topical webinars for all end users.
Q – When will the new courses be available?
A – They will roll out over the next year. All users will be notified when they are released! Keep in mind the Enrich platform has 25+ courses ready now.
Q – What type of supplemental materials will we receive?
A – This is a partnership between NASTF, Enrich and our pilot program participants. NASTF and Enrich will supply marketing graphics, draft text, other materials TBD; each entity is expected to develop their own outreach materials to supplement these and to personalize it for your audiences. No one entity is expected to go it alone, but to share with all of the participants for the collective good.
Q – Can I get a link to see how the platform works before I commit to anything?
A – Yes, here you go. 
Q – Are you going to sell me anything?
A – NO! User data will not be sold, given or lent to anyone. Enrich abides by all federal and state data privacy laws. End users will receive occasional emails with updates, etc. In fact, here is a copy of their Privacy Policy. 
Q – What if I'm already an Enrich legacy user?
A – If you choose to keep your contract with them, you will continue your relationship with them. We will work with you if you wish to transition to this program.
Q – OK, we are in! But we still have a few questions that aren't addressed in the FAQs. Who do we contact? 
A – Contact Kari Arfstrom at NAST:  kari@statetreasurers.org