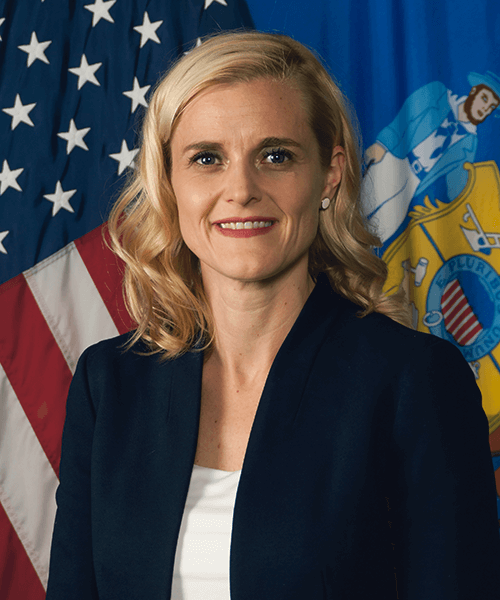 NAST Boards and Committees
Pension and Trust Investment Committee
Godlewski was born in Eau Claire, Wisconsin and is a graduate of Memorial High School, where she was class president. She attended college at George Mason University, where she studied Peace and Conflict Resolution and served as student body president. During that time, she helped to successfully lobby the Virginia Legislature to pass absentee ballot reforms. Later, she attended the Sorensen Institute for Political Leadership at the University of Virginia and received a Masters in Public Administration from the University of Pennsylvania. In addition, she was a National Security Fellow for Air War College and attended the Women's Campaign School at Yale University. Godlewski has also been involved as an interviewer with the Veterans History Project.
Godlewski worked for Arapahoe County, Colorado from 2012 to 2016 as the Director of the Department of Strategy and Performance. During that time, Godlewski served as a member of the Joint Taskforce on Veterans with PTSD which made recommendations to the Department of Veterans Affairs and the United States Congress. Godlewski worked for Booz Allen Hamilton on Strategy and Organization in Washington, D.C. and was a senior consultant at BearingPoint. During the 2008 and United States 2008 Presidential Elections, Godlewski served as the national finance council co-chair for Ready for Hillary and was the Wisconsin Women's Director for Hillary Clinton's 2016 presidential bid. Godlewski has also taught as an adjunct professor at George Mason University.
Godlewski's career has lead her to work on community Microfinance in India, language and culture strategic planning for the United States Department of State, child protection initiatives in Belize, education reform and public health in Uganda, and social policy work in Sweden.
Godlewski serves on the board for the U.S. Fund for UNICEF and serves as chairperson of the UNICEF Advocacy Committee. In addition to her leadership role with UNICEF, Godlewski serves on the board for mOm Incubators, the Arlington Academy of Hope, and George Mason University's School of Visual and Performance Arts. Godlewski has also been an investor with WE Capital. In the past, Godlewski has helped to direct Women's Leadership programs for the Democratic National Committee.
Sarah's parents are retired public school teachers. Godlewski lives with her husband Max and their rescue dog, Tanner.