Thought Leadership Thursday
Preparing Students for Tomorrow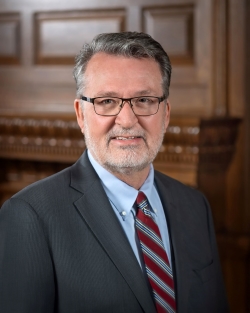 Thought Leadership Thursday Article
Preparing Students for Tomorrow
Dear Colleagues,
Post-secondary education can often feel like a luxury to many families, and a faraway dream for students early in their K-12 path. But I believe we have the ability, and the experience, to lead our constituents on how our K -12 students are able to take the next steps needed to plan for affordable post-secondary education or training. Today, I would like to encourage you to consider how this leadership could look in your own state by sharing the steps we have taken in Kansas.
Recently, we had the opportunity to host a joint virtual event with Sallie Mae to help students take steps to discover additional funds to afford their education. This is an event we have committed to host at least once each semester for students, parents, family members, and school staff. These conversations focus on the overall costs of attending a 2-year and 4-year public or private college or university, as well as information students need to be able to apply for scholarships as part of their plan to cover the costs of college. Specifically, they walk through ScholarShop, which is a tool featured on our website that aggregates scholarship information and compiles it into an easy-to-navigate search engine for students. Students are encouraged to set up a profile within ScholarShop and indicate their interests in order to see recommendations on scholarships.
Next, we prioritize ways to interact with K-12 students in an effort to educate families about the opportunities a Learning Quest 529 savings account can fund. We help students understand that if they choose technical or vocational training, or even a registered apprenticeship, a Learning Quest 529 account will be able to be utilized to cover these costs. However, we know that students who decide to pursue 2-year or 4-year public or private degrees will need to utilize other funding sources to cover costs if they hope to complete their education with minimal or no debt. But most importantly, we realize that this method of saving for education holistically changes and improves our workforce since we are attacking ways to saving for learning from as many angles as possible.
Further, in talking with our Sallie Mae partner, as well as Kansas high school counselors, we learned that there is an additional need for helping students better navigate the complex process of meeting the requirements of applying for scholarships administered by nonprofits or private entities. Typically, the process of applying for scholarships through colleges and universities themselves is very streamlined. Within the state of Kansas, most of our public institutions don't require an essay for a student to be considered for a scholarship from the institution – with the exception of one public university honors program within the state. The need for essay writing really comes from students who choose to apply for dollars from those nonprofits and private entities. Some organizations require multiple essays be completed, some require references to be submitted, some may be due earlier in the academic year while others are due later in the year.
With a more thorough understanding of how complex it is for students to navigate these scholarship applications; we are working on a new initiative to offer a virtual panel that focuses specifically on how to manage the organization of and writing of scholarship applications. This will be a deeper dive into scholarship essay writing than we have provided with past events focused on the ScholarShop tool. For participation on the panel, we are inviting a nonprofit partner that offers scholarships, a high school counselor with extensive experience in assisting students with navigating the process of applications, and a higher education professional who focuses specifically on supporting students that are applying for competitive scholarship essays. We continue to plan this panel and will offer this new initiative to students in early fall. Until then, our goal will be to collect feedback from state thought leaders so that we can provide the best information possible to our Kansas students.
Our goal in the State of Kansas Treasurer's Office will be to equip students with the ability to minimize or eliminate the amount of debt they owe as they pursue post-secondary learning and career training. I am confident that by continuing to form key partnerships across the state, with a specific focus on listening to our high school counselors that we will be able to offer students the information they need to successfully plan for their future.
I invite more conversations about equipping students for post-secondary learning at NAST's TMTS conference in June. I look forward to seeing you there.
Sincerely,
Lynn Rogers
Kansas State Treasurer